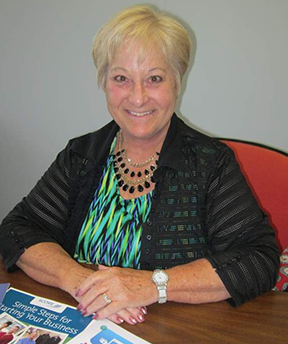 By Bob Koslow



Published: Sunday, May 29, 2016 at 6:49 p.m.
DAYTONA BEACH — Pam Brown has always enjoyed leaning and also has a strong urge to teach.She pursued a lifelong career in the business world, but is now filling her retirement days as a volunteer senior mentor and counselor with the Volusia-Flagler chapter of SCORE, the Virginia-based Service Corp of Retired Executives.
"My grandparents influenced me; my parents influenced me, especially my dad; my husband, students and clients all influenced me," Brown said. "What I have learned I can pass on to those who were not as fortunate to grow up in that environment."
Brown was recently recognized by the national SCORE organization for her 2015 efforts when 12 clients opened new businesses and all her clients, locally and around the county, created 102 jobs. That's the third-most jobs created in 2015 of any SCORE counselor in the nation, according to SCORE.
Brown was also named a Captain of Industry, SCORE's second-highest level of recognition, for a volunteer who had a combined 500 to 1,499 new businesses started and jobs created in the last four years.

"Pam brings a wealth of experience and knowledge to her mentoring engagements," said Tom Hellman, president of the local SCORE chapter. "She has the ability to clearly articulate advice and counsel in areas that our clients need to address to be successful.

"She has played a key role in our chapter for more than a decade from being on the board to taking on special projects like cyber mentoring, an area that she leads for our chapter. Her can-do attitude serves as a positive example for our new volunteers."

Brown was born in Detroit, two years after her grandparents and parents moved from Montreal, Canada and started a real estate business.

"They embraced America," said Brown. "This was the America dream. Detroit in the 1920s was one of the healthiest city's economically because of the auto industry."

The real estate business transitioned into a commercial mortgage lending business for bowling allies, strip malls and later for mobile home parks. The family saw the financial benefits of owning and operating mobile home parks and began to invest.

"I spent the summers with my grandparents and saw and heard them discussing business and dad was an entrepreneur too," Brown said. "That entrepreneurial spirit has always been in me too."

Brown earned a degree in office administration at Michigan State University in the early 1970s just as her parents moved to South Florida to be closer to her grandparents who had moved a few years earlier. The family again invested in mobile home parks.

Brown stayed in Michigan working at first as an administrative assistant for a nonprofit organization and then worked for Ingham County government before joining the family in South Florida in 1980.

She worked as office manager — handling human resources and the finances — for a dental group in Boca Raton. She also married William Brown, an engineer for IBM, and earned her masters of business administration degree from Florida Atlantic University.

IBM moved the Browns in 1986 to Gaithersburg, Maryland outside Washington, D.C.

About 18 months later, the South Florida dental group was having bookkeeping issues and flew Pam Brown back to the state. She fixed the problems and returned to Maryland where she remained a contract employee overseeing the practice's finances for 10 years.

She also went through the process of starting her own dental practice consulting business in Maryland and earned her certified financial planner license. She never managed anyone's investment portfolio or sold financial products. The license was for her education and she helped family and friends. The license lapsed last year.

While in Maryland, the Browns both taught at the local campus of the Johns Hopkins University School of Continuing Education.

"It was fabulous," Pam Brown said. "I kept learning to stay ahead of the students and also learned how to take what I knew and translate it so the students could use it immediately."

She taught budgeting, investing and accounting for almost five years, which prepared her for her volunteer hours with SCORE.

The Browns moved back to Florida in late 1995 when Pam's brother died. Pam Brown wanted to be closer to her parents as her father prepared the mobile home parks for sale.

The Browns had some time away from family at a friend's home in New Smyrna Beach. They liked the area and Bill Brown secured a teaching position at Embry-Riddle Aeronautical University in Daytona Beach. They rented a house for 6 months in Daytona Beach before deciding to make the area home.

The couple got involved with SCORE after friends convinced them to teach a workshops on how to start a business. They were accepted as mentors in 2006 and taught the class for five years.

Pam Brown continues to mentor start-up entrepreneurs as well as business owners wanting to grow a business or fix a problem. Services are free. She also does a lot of on-line mentoring of clients across the county.

Pam Brown's teaching urge also has carried over to the radio. On the first Wednesday of each month, at about 4:45 p.m., she joins Big John on 1380 WELE AM radio for a 30 minute segment about SCORE and Brown responds to telephone calls.

"Getting that positive feedback, knowing that I helped, that is my reward," Pam Brown said


Copyright © 2016 News-JournalOnline.com — All rights reserved. Restricted use only.