Before they started, they came to us.
Details

Published on Monday, 02 June 2014 13:49
Written by Bob Koslow [email protected]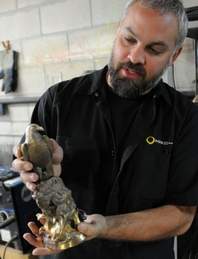 After starting small, DeLand company enjoying national exposure
DELAND — When singers Justin Bieber, Katy Perry and the Black Eyed Peas held up their Vevo Certified Awards for millions of online fans, they displayed an award designed and made in DeLand at Inspired Bronze.
"(Vevo) found us on Google. That just justified our efforts in building a quality website since most of our new business is by word-of-mouth and the Internet," said Jackie Ramieri, co-owner of the small company along with sculptor and artist husband Matt Ramieri.
The 2012 contract for the Vevo awards, given periodically by the online music video company to its artists whose songs get 100 million views, was a much-needed boost for Inspired Bronze. It helped the company finally reach some financial success last year and allow a move into a larger building where it wants to add new processes.

"Our growth is a combination of the quality and uniqueness of the work. There are not a lot of companies that do what we do," said Jackie Ramieri, director of custom sales and operations for Inspired Bronze. "Our strategy was to make our virtual storefront look like we were a bigger company than we were. You have to have business to get business and to show examples of the work. We also use testimonials and references in our marketing, so we treat customers like gold."

Inspired Bronze is a foundry that designs and makes custom bronze and pewter sculptures, trophies and plaques. The works are digitally designed with a prototype made using 3-D printing technology. Molds are then made from the prototypes.

Business has grown 154 percent in two years. Clients include country clubs, corporations, churches and universities. National customers include Jim Beam Global, United Healthcare Children's Foundation and the Professional & Amateur Pinball Association. The company hopes to start attracting more local business.

But it took Inspired Bronze a while to get those national clients that can afford the higher-end products not intended for the youth trophy market. All Inspired Bronze products are made in America.

Matt Ramieri, managing owner, has a fine arts degree from Hartford University. He also studied in Italy for a college term and completed an apprenticeship at Johnson Atelier, a premier metal casting institute in New Jersey.

He moved to Florida when the man who wrote his recommendation to get into Johnson Atelier hired Matt to work at the American Bronze Foundry in Sanford.

Jackie Ramieri was in telecommunication sales and marketing in Lake Mary when she met Matt through Match.com. They have lived in Deltona since 2005.

The couple in 2009 opened Inspired Bronze in a 1,600-square-foot building on Langley Avenue in the DeLand Business Park at the DeLand Municipal Airport. Jackie kept working in the telecommunications field from home and at work to pay the bills. Meanwhile, they traveled to art shows and reached out to artists to cast their clay works in metal.

The big break came with a random call from a board member of the Old Marsh Golf Club in Palm Beach Gardens. He had seen Matt's work of an eagle at an art show and asked if Matt could design a sculpture of a sand hill crane for one of the club's perpetual awards.

That led to other projects for the club and opened a new market for Inspired Bronze.

Jackie got online and found hundreds of private golf clubs. She emailed and called the golf pros soliciting jobs. That segment grew and they created a website, hired a marketing consultant and then branched out seeking entertainment and corporate clients.

With little knowledge of running a business, the Ramieris contacted the Small Business Development Center at Daytona State College for assistance. They were put in touch with SCORE of Volusia/Flagler County, a nonprofit organization of retired executives who offer free business assistance.

"Jackie came to us in June 2011 wanting help with finances, budgeting and developing a business plan, skills she didn't have," said Bill Roy, vice president of client services for the local SCORE chapter. "They have taken the time to build their business and not jump right in with unrealistic ambitions. They still call and attend workshops for business advice."

The SCORE counseling helped the couple land a Small Business Administration-backed loan, which led to Inspired Bronze moving a year ago to a 20,000-square-foot building at 1760 Langley Ave., a block from their smaller location.

"We were packed in so tight and wanted to expand into pewter and that needs to be separate from the bronze so there is no contamination," Matt said. "We looked at a 10,000-square-foot facility, but this was such a deal and offers us lots of room to grow without having to move again in a couple years."

The business growth has also allowed Inspired Bronze to hire two tech assistants in the shop and an administrative assistant for the front office.

The company does custom metal work, but also has design-to-order pieces that are less expensive.

It's also a distributor for glass etching and engraving companies, an area that Inspired Bronze wants to get into. Inspired Bronze also provides an award-finding service for people who may not want something as ornate as it provides.

"If someone has an awards need," Jackie said, "call us and we'll figure out a way to help."

Copyright © 2014 News-JournalOnline.com — All rights reserved. Restricted use only.