Details

Category: SCORE Business Mentoring
Have you made your New Year's resolutions yet?  If you're like most people, you only get in the spirit around the December holidays.  Fact is, only about 70 percent of people actually make one or more New Year's resolutions, and less than half of those keep them.

This year, for the sake of your business, consider doing it another way.  First, don't make a New Year's resolution for your business.  Why?  Because, most people don't take resolutions seriously.  The old saying that "New Year's Resolutions are made to be broken," is more true than not.  Instead, this year set some serious goals for your business.  Don't just put a wish list on a piece of paper.  Spend some quiet time thinking about where your business is today and where you would like it to be at this time next year.  Here are a few key points that you'll need to follow if you want to be successful:
Details

Category: SCORE Business Mentoring
At some point in their lives, just about everyone has had a thought about starting or owning their own business.  The idea of being your own boss, and in control of your future success, has been a dream for many of us.

SCORE's main mission is to help people who want to start or own a small business. We provide assistance and counseling to thousands of people each year to help them determine if their business idea is feasible and worth pursuing.

We encourage you to pursue your dream to own a small business and we stand ready to help you achieve that dream.  Our role is to serve as your experienced business adviser & our services are both free and totally confidential.  Plus, an SBA study shows that businesses counseled by SCORE have a substantially higher success rate.
Details

Category: SCORE Business Mentoring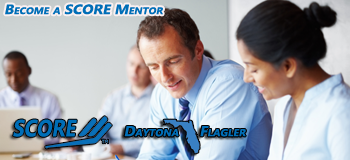 Every year, SCORE volunteers help thousands of entrepreneurs start small businesses and achieve new levels of success in their existing businesses. Volunteering at SCORE is a way for you to give back to your community, connect with fellow business owners, and pass on your knowledge and expertise to the next generation of entrepreneurs in your community.
SCORE volunteers provide confidential business mentoring services, both in person and online. We lead seminars and workshops to help small business owners meet their goals and achieve success. We help expand outreach of SCORE through marketing and alliance building in our local communities. We provide subject matter expertise by industries and professional skills.