Details

Category: Small Business How To
In 2013, small business owners will contend with many of the same issues that made it hard to run their companies over the last 12 months.

They're also heading into the new year with a lot of uncertainty. It's unlikely that negotiations in Congress will resolve all of lawmakers' disagreements over tax and budget issues that affect small businesses. And there are still many questions about the implications of the health care law for small companies.

That points to continued caution — and perhaps slow hiring — among the nation's small companies.

"Uncertainty is the bane of every small business," says Scott Shane, a professor of entrepreneurship at Case Western Reserve University's Weatherhead School of Management in Cleveland. "Their only rational response is to pull in their horns and slow down."
Details

Category: Small Business How To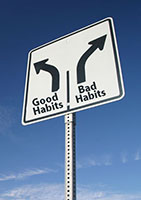 Business owners are only able to obtain success by developing habits that are effective in driving success.
Here are some habits that ensure business success.
Habit 1. Cultivate Inner Networks

Entrepreneurs are fully aware of the influence of networks in the industry. They invest time in fostering relationships with colleagues, peers and mentors. Through this network, they are able to give each other support and advice regarding important issues. Having an inner network is also essential for the increased number of people connected to your business.
Get Social