SUCCESS STORIES
MAGGIE'S EUROPEAN BAKERY AND CAFÉ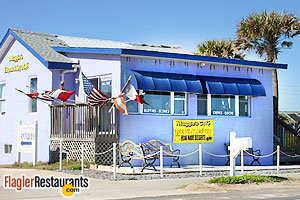 Maggie and Andy Bochnar are the owners of Maggie's European Bakery & Café in Flagler Beach, a restaurant specializing in cuisine that reflects on their German, Polish and French upbringings.  They started their business from scratch and today are a successful small business that is growing steadily with many satisfied customers returning to their establishment time after time to enjoy their wonderful food and friendly atmosphere.
When Maggie and Andy were exploring their vision of opening their restaurant they approached the SCORE office in Palm Coast and met with counselors Ray Smith and Glenn Laury.  Together they explored the business opportunity and put together a business and financial plan to get the restaurant up and running.  They continue to meet today as the business grows and problems are encountered and overcome as the owners move up the ladder of success.
According to the Bochnar's,  "Glenn and Ray's assistance was invaluable to the success of our business and their encouragement and advice gave us confidence about our ability to succeed.  We have faced hurdles along the way and SCORE has always been there when we needed them to assist us."
In 2009 Maggie's was recognized by the Volusia/Flagler Chapter of SCORE  as one of its Entrepreneurs of the Year at a luncheon hosted by the Volusia Department of Economic Development.  We congratulate Maggie and Andy on their well deserved award and wish them continued success as their business grows.
---
HALIFAX ACADEMY
Julia Sirois-John, an RN and Sharon Kirkland, a CNA had over 50 years of nursing experience between them and shared a dream of helping people who wanted to seek employment in the medical field, initially as a Certified Nursing Assistant (CNA).  Earning a CNA designation requires that you successfully complete a Florida State exam and there was little formal training available to students who wished to pursue this opportunity.
In August of 2008 Julia and Sharon came to the Daytona Beach branch of SCORE and met with counselors Pam and Bill Brown to discuss their vision of providing assistance to students who were interested in pursuing a new career.  Together they evaluated the business opportunity and established a plan to put their ideas in action and get the enterprise launched as The Halifax Academy.
Julia and Sharon credit the Brown's as follows:  "There were so many questions that we had when we first started, and Bill and Pam had the answers or knew where to find them.  They were so supportive and positive about what we were trying to accomplish, it really helped ease the fears and anxiety we had about taking those first steps".  Since it was started, Halifax Academy has trained hundreds of students and have already moved to a larger facility in South Daytona.
The Halifax Academy was recognized in 2009 by the Volusia/Flagler Chapter of SCORE as one of it's Entrepreneurs of the Year at a luncheon hosted by the Volusia Department of Economic Development.  We congratulate Julia and Sharon on their well deserved award and wish them continued success as their business grows.
---
ATLANTIC PROPERTY MAINTENANCE
Joseph Sepe had a problem.  His Palm Coast company  was providing landscaping and janitorial services to homes and small businesses and it was losing customers due to cut-backs resulting from the bad economy.  Expenses had been cut to the bone but it was still very difficult to see how he could keep his company going. 
Joseph decided to seek the assistance of the SCORE Chapter in Palm Coast in early 2009 and met with Roger Leverton, Branch Manager and one of his counselors, Ken Harple.  They did an analysis of the services he provided and together they realized that he had far more to offer than just landscaping and janitorial services.  In fact, he was effectively able to offer a one-stop/one-call building maintenance service .
According to  Joseph, "Based on Roger and Ken's review and recommendations we changed the name of my company to reflect the wide range of services we were able to provide.  We printed up new business cards and flyers and set up a web site.  They helped me realize that there was a new opportunity to work with local banks to fix up their repossessed mortgage properties and keep them properly maintained on an on-going basis."  Roger and his counselor  pointed out that this same kind of service could be offered to local Property Managers and Realtors both in the Residential and Commercial markets.  This opened up a whole new opportunity for us. We now run 3 divisions Landscape, Janitorial and Construction Services which is more of a building maintenance division. We have been marketing these services and it has really become a strong side of our business.  Roger and the SCORE Organization have really been a valuable asset to my company".
So far Atlantic Property Maintenance has grown from 2 employees to 5 and the future looks promising for further growth.  We are happy that we were able to assist Joseph and wish him nothing but continued success and rewards for his hard work and willingness to make changes as they are required.
---
HEART STRINGS
ULRIKE ENTWISTLE embodies the dream of many people, especially those that have come to this country, have had to learn our language and upon their spouses death, find themselves left without any visible way to earn a living. This is the story behind the search for self dependency, independence and becoming "one's own person".
In 2006, Heart Strings was conceived 35 a business that would fill a specific niche that being a provider and servicer of products tailored to that special area of Woman's Breast Care & Boutique. With the growing statistic showing lout of 7 women being diagnosed or treated for breast cancer, the potential for filling the need for being such a provider was certainly evident and desperately needed.
ULRIKE contacted SCORE in New Smyrna Beach for guidance on how to go about starting this business and was assisted by Certified Counselors who brought with them many years of business experience. Numerous sessions supported by SBA information were provided so as to help this client develop a sound Business Plan, conduct the necessary Market Research to determine the demographics of the customer, and Cash Flow planning to assist her in thinking out the monetary part of this project and Its prospects of success. ULRIKE attended (3) separate SCORE sponsored workshops, and met with Community Small Business Development personnel. Most rewarding was that ULRIKE used her own savings to start her business and did not rely on getting loans from financial institutions.
Today, "Heart Strings" has an established retail location in New Smyrna Beach, a customer following of more than 1,000 women who travel up to 100 miles to visit with her and to be fitted with the proper Mastectomy Bras, Breast Forms, Compression Garments, Lingerie, Swim and Sleepwear. The company has since diversified and is now offering Skin Care and Hair Alternative (Wigs) and has established relationships with Medicare, Humana and most major health Insurers. The company continues to be recommended by Doctors and Oncologists and has seen a 25% growth In business last year alone.
"Heart Strings" has passed the all important critical first (3) years in business and is well on its way to a long and prosperous future. This is another example of a SCORE partnership we can all be proud of.